Introduction
Vigyan Ashram has designed & developed a "Sand filter" for schools / small houses/ bungalows and remote locations. Users of the manual will be able to build their own Sand filter using this manual. All the Bills of Materials (BOM) and dimensions of the systems are given in the design. We have provided designs files drawn using Solidworks along with this manual. Users are suggested to read the manual carefully along with the site conditions before fabrication of the unit.
Purpose of Manual
To share standardized design of Sand filter suitable for small bungalows, hamlets, schools and institutes.
Design to be made available online for local fabricators to build Hydroponics Structure for their customers.
Product Description
This is a Sand filter. This system can be deployed after water storage tank. System consists of a 50L storage tank, six PVC (2'') pipes with sixty net pots, submersible pump of 18 W for nutrient solutions circulation, piping connections and shade net roof. The proposed system is able to grow sixty plants at a time.
The detail view and bill of materials are given below:
How it works? – Hydroponics
Hydroponics[1] is a type of horticulture and a subset of hydro culture, which is a method of growing plants, usually crops, without soil, by using mineral nutrient solutions in an aqueous solvent. Hydroponics has been recognized as a viable method of producing vegetables (tomatoes, lettuce, cucumbers and peppers) as well as ornamental crops such as herbs, roses, freesia and foliage plants.
Advantages
It can be used in places where in-ground agriculture or gardening is not possible (for example, dry desert areas or cold climate regions).
More complete control of nutrient content, pH and growing environment.
Lower water and nutrient costs associated with water and nutrient recycling.
Faster growth due to more available oxygen in root area.
Elimination or reduction of soil related insects, fungi and bacteria.
Much higher crop yields.
No weeding or cultivation required.
Some crops, such as lettuce and strawberries, can be lifted from ground level to a much better height for plant ing, cultivation and harvesting.
This gives much better working conditions and hence lowers labor costs.
Crop rotation/fallowing is not necessary.
Transplant shock is reduced
Disadvantages
Initial and operational costs are higher than soil culture.
Skill and knowledge are needed to operate properly
Liquid Hydroponic System:
Nutrient Film Technique (NFT): Plants are placed in a polyethylene tube that has slits cut in the plastic for the roots to be inserted. Nutrient solution is pumped through this tube. NFT Systems have a constant flow of nutrient solution, so no timer is required for the submersible pump
Step by Step installation
Step 1: Frame Preparation
Step 2: Roof preparation
Step 3: PVC pipe & End Cap cutting
Step 4: Pipe Holders
Step 5: PVC pipe-1 assembly
Step 6: PVC pipe-2, 3,4,5,6 assembly
Step 7: Storage Tank, Air Pump & submersible pump
Step 1: Frame Preparation
Step 2: Roof preparation
Step 3: PVC pipe & End Cap cutting
Step 4: Pipe Holders
Step 5: PVC pipe-1 assembly
Step 6: PVC pipe-2,3,4,5&6 assembly
Step 7: Storage Tank, Air Pump & submersible pump
Fabrication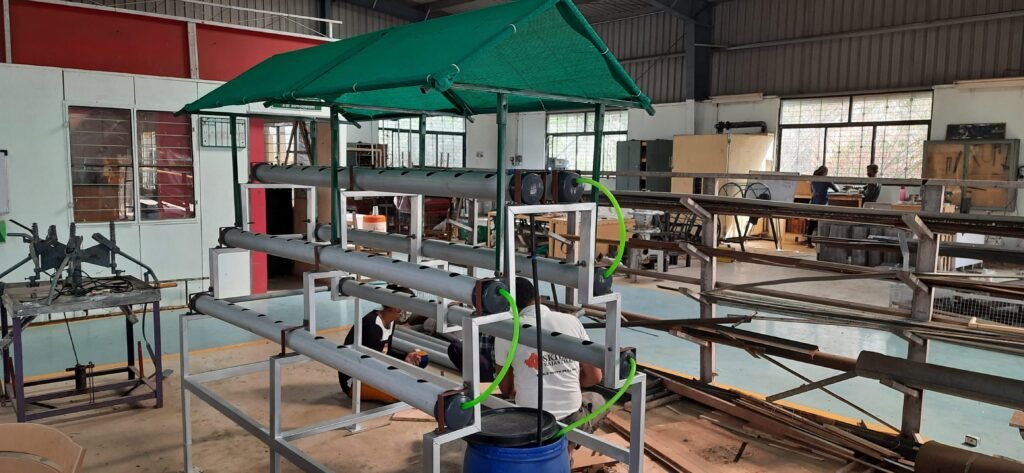 Testing
INSTALLATION AT MUKHAI SCHOOL
Trainning for Mukhai School Students
Results