Objective: To grow hydroponically wheat grass.
As we know wheat grass is healthy food for animals so I have to grow wheat grass hydroponically in hydroponic unit.
Procedure:
1.Take 1 kg of wheat grains and soaked for 24 hours in tap water.
2. After soaking of water the grains were clean by tap water.
3. Soaked grains were adding to gunny bags and placed into the dome for sprouting for 24 hours.
4.Removed grains from the gunny bags and added to the clean tray 200 gm/tray.
5.Daily spray the water to the grains at one hour of interval.
6.Trichoderma test given to each tray for fungus control. (10 gm/l)
7.Take readings of temperature and humidity.
Observations:
1.Weight of maize = 2000 gm
2.Water added for soaking = 2 litters.
3.weight after soaking = 2307 gm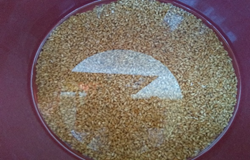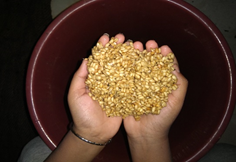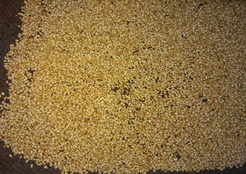 Place seed into gunny bags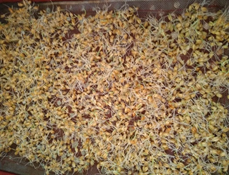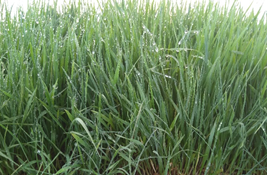 Following tables showing Temperature and humidity.
| | | |
| --- | --- | --- |
| 6/1/2019 | | |
| Time | Temp.(°C) | RH (%) |
| 10:00 | 24 | 84 |
| 12:00 | 27 | 53 |
| 3:00 | 26 | 65 |
| 5:00 | 30 | 67 |
| 8:00 | 24 | 57 |
| | | |
| --- | --- | --- |
| 7/1/2019 | | |
| Time | Temp.(°C) | RH (%) |
| 10:00 | 26 | 65 |
| 12:00 | 28 | 79 |
| 3:00 | 25 | 71 |
| 5:00 | 23 | 77 |
| 8:00 | 22 | 70 |
| | | |
| --- | --- | --- |
| 8/1/2019 | | |
| Time | Temp.(°C) | RH (%) |
| 10:00 | 23 | 77 |
| 12:00 | 24 | 84 |
| 3:00 | 26 | 51 |
| 5:00 | 22 | 54 |
| 8:00 | 20 | 83 |
| | | |
| --- | --- | --- |
| 9/1/2019 | | |
| Time | Temp.(°C) | RH (%) |
| 10:00 | 25 | 64 |
| 12:00 | 28 | 54 |
| 3:00 | 32 | 47 |
| 5:00 | 29 | 44 |
| 8:00 | 20 | 75 |
| | | |
| --- | --- | --- |
| 10/1/2019 | | |
| Time | Temp.(°C) | RH (%) |
| 10:00 | 28 | 54 |
| 12:00 | 30 | 45 |
| 3:00 | 35 | 49 |
| 5:00 | 22 | 76 |
| 8:00 | 21 | 75 |
| | | |
| --- | --- | --- |
| 11/1/2019 | | |
| Time | Temp.(°C) | RH (%) |
| 10:00 | 26 | 85 |
| 12:00 | 32 | 44 |
| 3:00 | 31 | 68 |
| 5:00 | 22 | 76 |
| 8:00 | 20 | 91 |
| | | |
| --- | --- | --- |
| 12/1/2019 | | |
| Time | Temp.(°C) | RH (%) |
| 10:00 | 26 | 58 |
| 12:00 | 28 | 72 |
| 3:00 | 30 | 50 |
| 5:00 | 27 | 47 |
| 8:00 | 24 | 63 |
| | | |
| --- | --- | --- |
| 13/01/2019 | | |
| Time | Temp.(°C) | RH (%) |
| 10:00 | 27 | 58 |
| 12:00 | 30 | 61 |
| 3:00 | 30 | 45 |
| 5:00 | 22 | 76 |
| 8:00 | 21 | 75 |