Aim :- Grey water Parameter Testing
Objective :- Check the TDS,ph,salt,EC and COD of Graywater sample for the application of greywater reuse in urban water systems provides substantial benefits for both the water supply subsystem by reducing the demand for fresh clean water
Introduction :-
Greywater (also spelled graywater, grey waterand gray water) or sullage is all wastewatergenerated in households or office buildings from streams without fecal contamination, i.e. all streams except for the wastewater from toilets. Sources of greywater include, sinks, showers, baths, clothes washing machines or dish washers. As greywater contains fewer pathogens than domestic wastewater, it is generally safer to handle and easier to treat and reuse onsite for toilet flushing, landscape or crop irrigation, and other non-potable uses.
The application of greywater reuse in urban water systems provides substantial benefits for both the water supply subsystem by reducing the demand for fresh clean water as well as the wastewater subsystems by reducing the amount of wastewater required to be conveyed and treated.Treated greywater has many uses, for example toilet flushing or irrigation.
Types of water:-
Grey water :- Greywater can be Defined as any domestic wastewater produced , excluding sewage . The Main difference between Greywater and sewage is the organic loading . sewage has a much larger organic loading compared to greywater.
Black water :- Blackwater is the mixture of urine, feces and flushwater along with anal cleansing water (if water is used for cleansing) and/or dry cleansing materials. … Water coming from domestic equipment other than toilets (e.g., bathtubs, showers, sinks, washing machines) is called greywater.
Surface water :- Surface water is water on the surface of continents such as in a river, lake, or wetland. It can be contrasted with groundwater and atmospheric water. Non-saline surface water uses is replenished by precipitation and by recruitment from ground-water.
Ground water :- Groundwater is the water present beneath Earth's surface in soil pore spaces and in the fractures of rock formations. A unit of rock or an unconsolidated deposit is called an aquifer when it can yield a usable quantity of water.
Appratus :-
Digester
C.O.D. Tube
Beaker
Condenser
Conical flask
Burate Stand
Funnel
T.D.S. Meter
Parameter:– A numerical or other measurable factor forming one of a set that defines a system of sets the conditions of its operation
TDS(Total dissolved solids):- Total amount of change ion including mineral, sulphate, water metal is called as TDS.
Ph(potential of hydrogen):- It is a measure of hydrogen ion concentration a measure of the acidity or alkalinity of a solution is called as ph.
EC(Electrical conductivity ) :- It is the fundamental property of a material that confitised how strongly it resists for the flow of electrical conductivity.
Salt:- It is mineral compose primarily of sodium chloride (NaCl ).
DO (dissolved oxygen):- Level of free oxygen present in water
COD (Chemical oxygen demand):- It is a measure of the capacity of water to oxygen during the decomposition of organic matter
Date :- 04 – 06 – 2019
Sample reading :-
Water sample
Salt
(PPM)
PH


TDS
(ppm)
EC
(μs)
Basin water
kitchen
314
(ppm)
7.85


421
(ppm)
594 (μs)
Dream house
312
(ppm)
7.78


432
(ppm)
613 (μs)
Food lab
318
(ppm)
8.96


427
(ppm)
602 (μs)
Microbiology lab
342
(ppm)

8.76


461
(ppm)
651 (μs)
Boys hostel
257
(ppm)
7.85


349
(ppm)
491 (μs)
Conclusion :- 1. The sample which was taken from microbiology lab has more salt , TDS & EC
2. It was Found That Food lab sample has more PH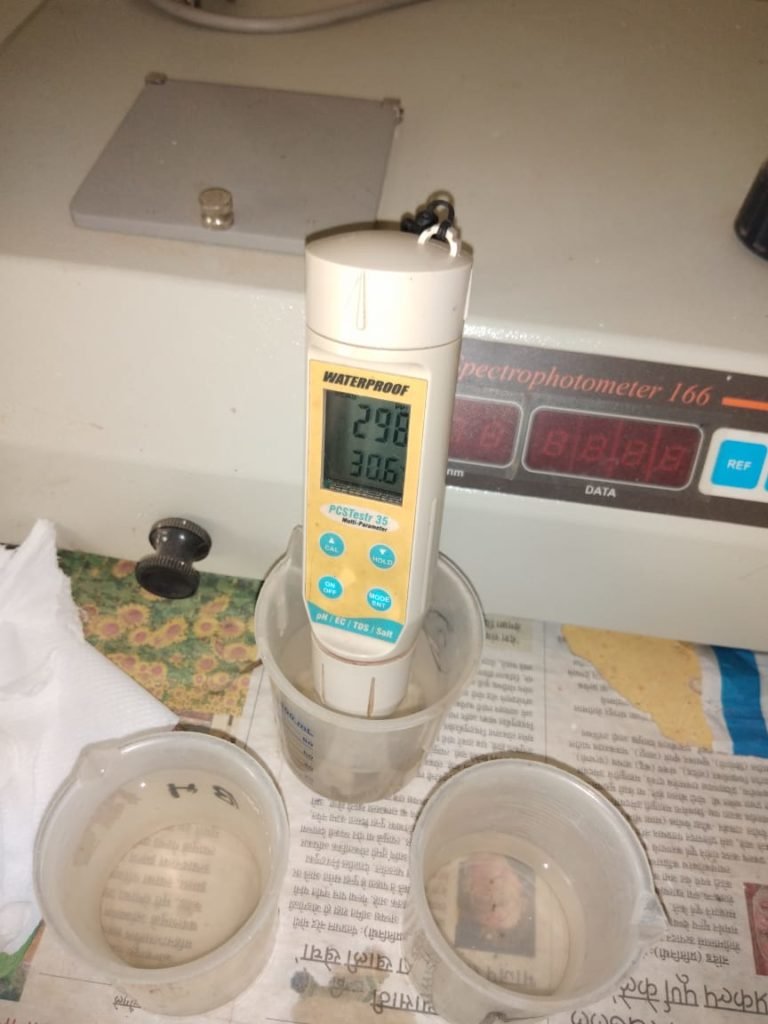 Date :- 09 – 06 – 2019
Reading Sample :-
water sample
Salt
(ppm)
PH


TDS
(ppm)
EC
(μs)
DO
(ppm)
Kitchen Basin
314
(ppm)
10


429
(ppm)
595 (μs)
0.65
(ppm)
Dream house
301
(ppm)
9.8


407
(ppm)
571 (μs)
5.28
(ppm)
Microbiology Lab
290
(ppm)
9.39


389
(ppm)
551 (μs)
3.99
(ppm)
Boys hostel Inlet
153
(ppm)
9.6


140
(ppm)
197 (μs)
0.80
(ppm)
Conclusion :- It Was Found that kitchen basin water has highest salt , PH , TDS & EC.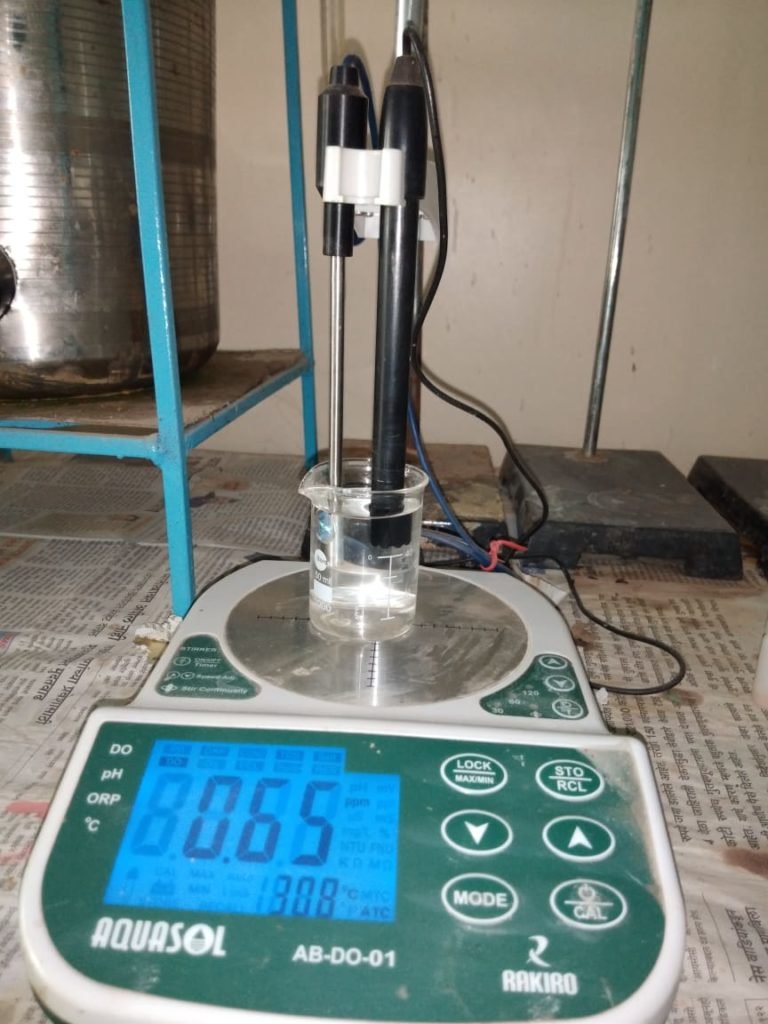 Date :- 12 – 06 – 2019
Sample Readings :-
Water Sample
Salt
(ppm)
PH


TDS
(ppm)
EC
(μs)
Microbiology lab
219
(ppm)
10.34


296
(ppm)
420 (μs)
Dream House
290
(ppm)
10.93


392
(ppm)
554 (μs)
Boys Hostel
292
(ppm)
10.44


394
(ppm)
555 (μs)
Kitchen Basin
356
(ppm)
10.69


474
(ppm)
672 (μs)
Girls Hostel Inlet
1.51
(ppm)

10.96


1.91
(ppm)
2.66 (μs)
Kitchen Inlet Grey water
502
(ppm)
10.28


667
(ppm)
938 (μs)
Grey water outlet
485
(ppm)
10.43


646
(ppm)
907 (μs)
Conclusion :- Kitchen Inlet Greywater has more amount of salt , TDS & EC.
It was found that PH of Dream house Is more than any other sample.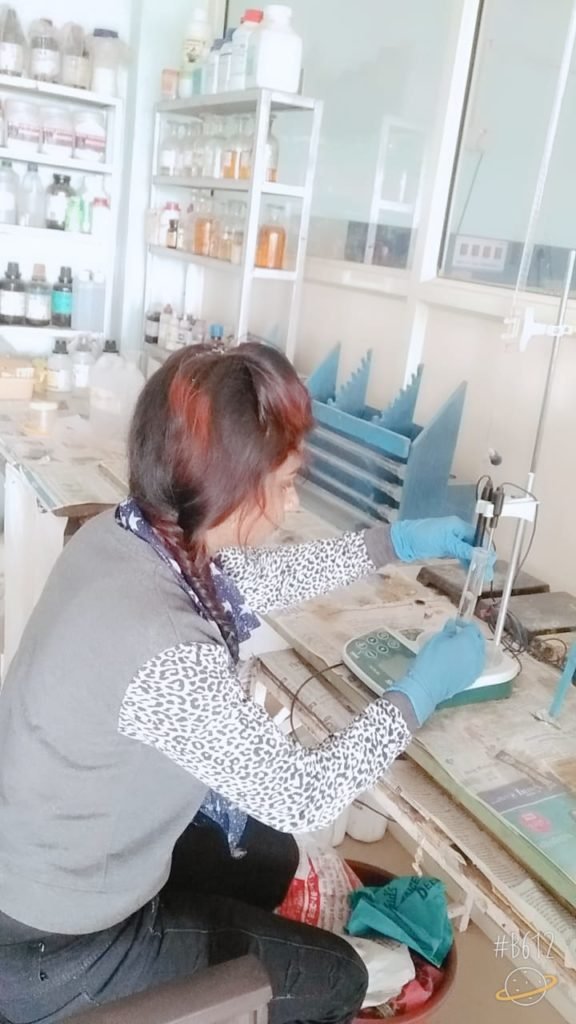 Date :- 14 – 6 – 2019
Sample Reading :-
Sample
PH


EC
(μs)
TDS
(ppm)
Salt
(ppm)
Boys Hostel
8.12


1730 (μs)
1.23
(ppm)
956
(ppm)
Grey Water Inlet
7.94


1194 (μs)
853
(ppm)
645
(ppm)
Grey Water Outlet
7.85


1305 (μs)
925
(ppm)
705
(ppm)
Conclusion :- 1. Boys Hostel sample has more PH , EC & salt
2. TDS Of Grey water outlet Found more
Date :- 17 – 06 – 2019
Sample Reading :-
Sample
PH


Salt
(ppm)
EC
(μs)
TDS
(ppm)
Greywater Inlet
7.22


509
(ppm)
944 (μs)
664
(ppm)
Greywater Outlet
7.35


560
(ppm)
1052 (μs)
740
(ppm)
Conclusion :- Greywater Outlet has more PH , Salt , EC & TDS
Procedure of DO ( Dissolved oxygen) :-
Connect the DO probe and temp. probe to meter and remove the protection cap from the probe
Remove the membrane cap carefully
Fill the membrane cap with the electrolyte solution up to the bottom of the threads on the inside of the cap .
C.O.D. (Chemical oxygen demand ) :- Indicative Measure of the amount of oxygen that can be consumed by ractions in a measured solution quantity the amount of organics in water
Quantity amount of oxidizable pollutants found in surface water/wastewater.
Adition table :-
| | | | | |
| --- | --- | --- | --- | --- |
| | Sample | k2cr2o7 | Distilled water | H2SO4 |
| Inlet | 5 | 10ml | 35ml | 30ml |
| outlet | 5 | 10ml | 35ml | 30ml |
| KHP | 20 | 10ml | 20ml | 30ml |
| Blank | – | 10ml | 40ml | 30ml |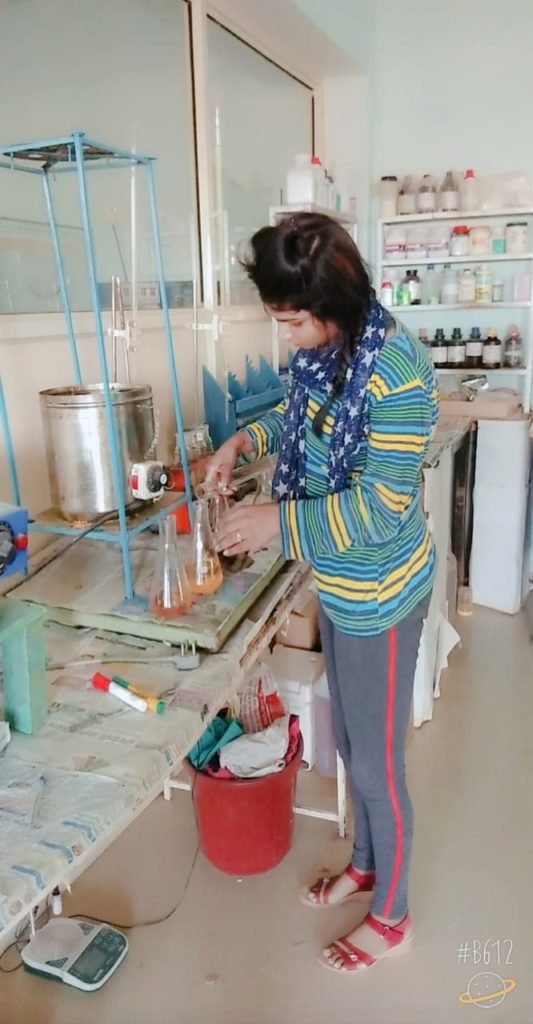 C.O.D. Procedure :-
Take 0.4 HgSo4 (mercuric Surface) in COD Tube
Add 10ml ( 0.25N) K2Cr2O7 Solution ( Dicromate Solution)
Add Stone ( Cruston Beads )
Add 30ml Can Sulfuric Acid Slowly Along With swirling
If turn green , Add more Quantity Of K2Cr2O7
Mix , Attach Condensor
Keep at 150℃ For 2 hrs. then cool , wash condensor with D.W.
Add About 150 D.W.
Titrate With 0.1 N FAS ( Terrous Ammonium Bulfite )
Blue green – Reddish Brown
Date :- 12 – 06 -2019
Kitchen Water –
Blank – 14.5
KHP – 23
Inlet – 33.8
Outlet – 45
KHP – 23 – 14.5 = 8.5
Inlet – 33.8 – 23 = 10.8
Outlet – 45 – 33.8 = 11.2
C.O.D. = Blank -( Sample Reading) × 0.255 × 8000 ÷ 20
KHP = (14.5 – 8.5 ) × 0.255 × 8000 ÷ 20
= 612
Inlet = ( 14.5 – 10.8) × 0.255 × 8000 ÷ 20
= 377.4 × 4
= 1509.6
Outlet = ( 14.5 – 11.2) × 0.255 × 8000 ÷ 20
= 336.6 × 4
= 1346.4
Date :- 17 – 06 – 2019
Grey water :-
Blank – 13.9
KHP – 22.6
Inlet – 31.3
outlet – 44.3
KHP- 22.6 – 13.9 = 8.7
Inlet – 31.3- 22.6= 8.7
Outlet – 44.3 – 31.3=13
KHP = (13.9 – 8.7) × 0.255 × 8000 ÷ 20
= 530.4
Inlet = (13.9 – 8.7) × 0.255 × 8000 ÷ 20
= 830.4 × 4
= 2121.6
Outlet = (13.9 – 13) × 0.255 × 8000 ÷ 20
= 91.8 × 4
= 367.2
Date :- 21 – 06 – 2019
Sample Reading :-
Sample
PH
EC
(μs)
Salt
(ppm)
TDS
(ppm)
Kitchen Inlet
7.95
8.91
(μs)
472
(ppm)
625
(ppm)
Kitchen Outlet
7.81
10.31
(μs)

553
(ppm)
729
(ppm)
Date :- 24 – 06 – 2019
Sample Reading :-
Sample
TDS
(ppm)
PH


Salt
(ppm)
EC
(μs)
Grey water Inlet
616
(ppm)
8.03


457
(ppm)
865
(μs)
Grey water Outlet
769
(ppm)
8.12
535
(ppm)
1082
(μs)
Date :- 24 – 06 – 2019
COD :-
Blank – 13.5
KHP – 21.9
Inlet – 31.3
Outlet – 43.8
KHP – 21.9 – 13.5 = 8.4
Inlet – 31.3 – 21.9 = 9.4
Outlet – 43.8 – 31.8 = 12
COD = Blank – ( Sample Reading × 0.255 × 8000 ÷ 20
KHP = (13.5 – 8.4 ) × 0.255 × 8000 ÷ 20=520.2
= 520.2 ×4
= 2080.8
Inlet = (13.5 – 9.4 ) × 0.255 × 8000 ÷ 20=418.2
= 418.2×4
= 1622.8
Outlet = ( 13.5 – 12 ) × 0.255 × 8000 ÷ 20=153
= 153 × 4
= 612
Date :- 27 – 06 – 2019
Sample Reading :-
Sample
TDS
(ppm)
salt
(ppm)
PH
EC
(μs)
Kitchen Inlet
685
(ppm)
509
(ppm)
8.37
960
(μs)
Kitchen Outlet
608
(ppm)
455
(ppm)
8.45
853
(μs)
Date :- 27 – 06 – 2019
COD :-
Blank – 24
KHP – 45 & 2.5 =45 + 2.5 = 47.5
Inlet – 36
Outlet – 18
KHP = 47.5 – 24 = 23.5
Inlet = 36 – 47.5 = -11.5
Outlet = 18 – 36 = -18
COD = Blank – ( Sample Reading × 0.255 × 8000 ÷ 20
KHP = 24 – 23.5 × 0.255 × 8000 ÷ 20
= 51 × 4
= 204
Inlet = 24 – ( -11.5 ) × 0.255 × 8000 ÷ 20
= 3621 × 4
= 14,484
Outlet = 24 – ( -18) × 0.255 × 8000 ÷ 20
= 4284 × 4
= 17,136