Introduction
Vigyan Ashram has designed & developed a Grain Disinfection Unit for Government Warehouse, Kirana Stores, and small Farmers & Households. Users of the manual will be able to build their own Grain Disinfection Unit using this manual. All the Bills of Materials (BOM) and dimensions of the systems are given in the design. We have provided design files drawn using Solidworks along with this manual. Users are suggested to read the manual carefully along with the site conditions before the fabrication of the unit.
Purpose
To share the standardized design of Grain Disinfection Unit suitable for Government Warehouse, Kirana Stores, small Farmers & Households.
Design to be made available online for local fabricators to build Grain Disinfection Unit for their customers.
Product Description
The Grain Disinfection Unit consists of an outer insulation chamber, conveyer tray system, on top hopper and collection tray at the bottom and Air heating & circulation system. Outer Insulation chamber made up of 12mm thick plywood.
The detailed view and bill of materials are given below: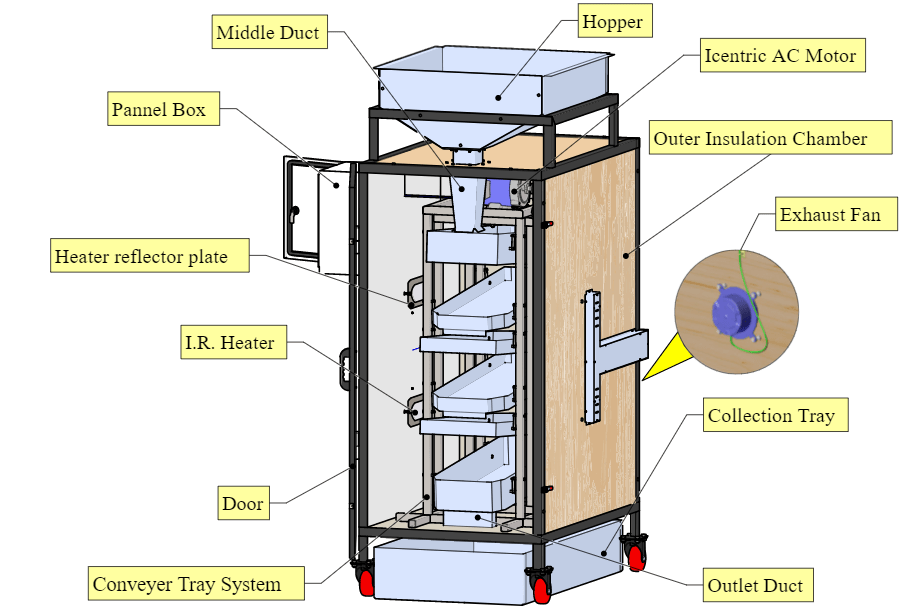 Feed Rate @ 40 to 45 Kg/hr.
Modular System
Easy to fabricate
Easy to operate
Easy to maintenance
High Grain Disinfection rate
Hot air is conveyed to each grain in the right proportion.
Reduces the moisture content of the grain (up to 1 to 2%)
Treatment cost is cheap @ 40 to 70 paise/kg.