Introduction:
Vigyan Ashram has designed & developed a Sand Filter-Supplement for water purifier system for Schools / Small Houses/ Bungalows/ public places with the help of Dassault System- La Foundation. The objectives of this project are Standardization of Sand Filter-Supplement for water purifier system and make a digital design using Solidworks software and its various interfaces like Composer and Visualize as well as to make sharable open source D-I-Y design.
Purpose of project
Achieve Social impact by making 'ready to deploy' technologies, innovative products to society.
Village youths can build these products themselves and help the rural eco system.
Product Description
We have developed a Sand Filter-Supplement for water purifier system. This system is deployed after a storage tank of water & before water filtration system. It having 2" PVC pipe structure & 2" standard piping connections. This structure contains layers of stones(150gm), charcoal(200gm), gravels(200gm) and fine sand(250gm) respectively . We are able to reduce particulate matters, turbidity of output water from storage tank. It is act as a pre water conditioner. It will helpful to increase the life of water purifier. The detail view and BOM are shown in below,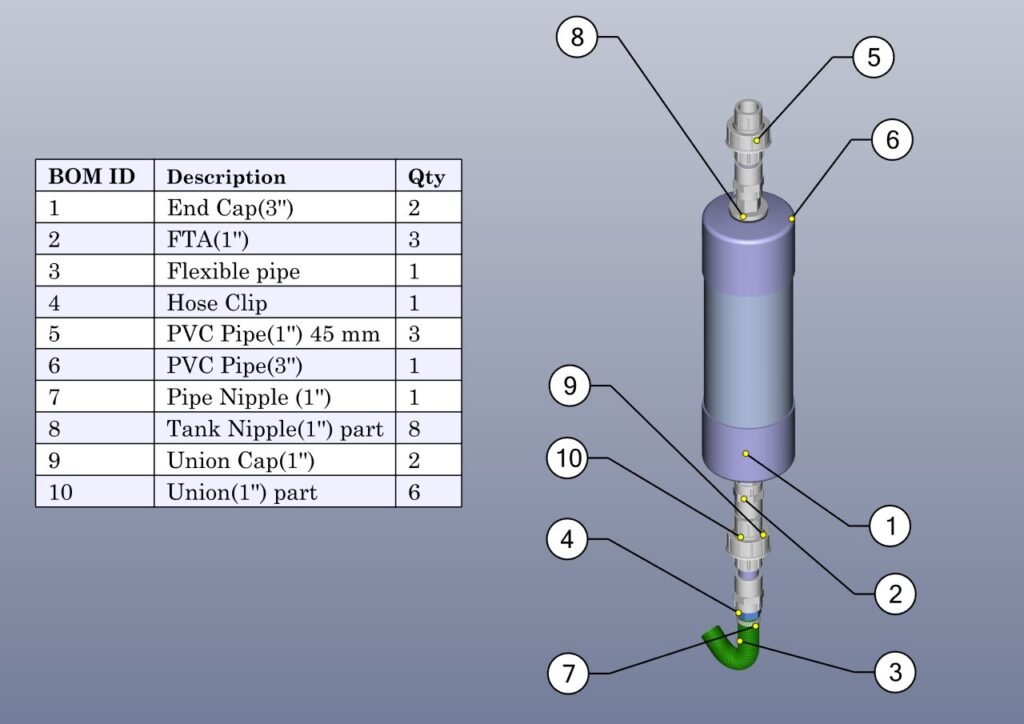 Features:
Recycle water used:
Sand filters are used in various sectors and processes, where far-reaching removal of suspended matter from water or wastewater is required.
drinking water production,
swimming pools
groundwater treatment
fruit and vegetable processing industry
https://docs.google.com/document/d/1_hsznfbyT8qkP3ZJnjvvU7Rz-eX–2EpPxuOdB_D27c/edit?ts=5fe96ba0
How It works ? – Filtration
Sand filters are used as a step in the water treatment process of water purification.
To remove or to reduce the remaining impurities still further, and to produce safe water, the water is filtered through the beds of fine granular material, such as sand, charcoal etc.
Filtration may help in removing colour, odour, turbidity and some pathogenic bacteria from water.
How does a sand filter work?
The unfiltered water is distributed in the top of the sand filter and will slowly sink through the filter bed.
This filter bed consists of sand, gravel or another filter medium. The small pores ensure that the dirt particles are not able to pass through and retain the dirt particles.
Filter material
Sand
Gravel
Coal
Fine sand
Sand and Gravels
Sand filtration is used for the removal of suspended matter, as well as floating and sinkable particles. The wastewater flows vertically through a fine bed of sand
A sand filter often provides an effluent with potential for re-use.
diameter of 0.8 mm to 1.25 mm
CHARCOAL
water filters use a special type of charcoal known as 'activated charcoal' to purify water.
Activated charcoal works through the process of adsorption.
Adsorption binds impurities chemically on the surface of the charcoal filter rather than physically absorbing them.
Types of sand filter
Upward flow sand filters
Opposite direction of gravitational force
Step By Step installation:
Step 1: PVC pipe cutting
Step 2: End Cap cutting
Step 3: Filter material preparation
Step 4: Pipe fittings assembly