Problem :
Bio-gas plant was constructed by many people which is know about this. But now a days they are not in working condition. So it must be challenge to me reuse existing bio-gas plant by using kitchen waste. In the past some problems were created like temperature maintenance and pH control.
Idea :
In that project following ideas will be used :
Re-use of existing Bio-gas Plant for Kitchen waste.
H2S and Moisture Removal accessories Mount on the gas connection.
Temperature maintain by using hot water.
Measure production of Bio-gas by using Flow meter.
Maintain pH of Bio-gas by using Lime Stone (chuna).
Prepare a hand operated cutter
Objective :
Re-use of existing Bio-gas plant For kitchen waste.
Maintain the temp. and pH control.
Prepare a hand operated cutter
Work :
First up all, I was bring Bio-gas plant From Kotharud Office of the Vigyan Ashram. The capacity of that plant's reservoir is 1 cubic meter and Digestor t is 600 lit. It was filled with the Cow dung Slurry. Then after four days waiting bio-gas was generated then kitchen waste was feed three times in a day.
Bio-gas production was started after first feeding then I was start the checking the bio-gas connection from bio-gas plant to food lab. First of all the connection was checked by me. Then bio-gas was supplied though that connection but there was problem i.e. gas didn't supplied to the food lab. The pipe line was dough out and find out the reason behind the bio-gas supply. The condensed water in pipe was removed then the biogas was supplied. But there was same problem. After that slope was given to the pipe and water was removed. Biogas was supplied properly due to slope of the pipe connection. Flow meter was fitted to that connection which was used for the measuring of biogas passing through it. All accessories were connected to the connection.
The Biogas was feed by different material. At that time the pH and temperature of feed and slurry were measured. The production of biogas was measured by using flow meter and collection into the biogas was done by using vacuum pump.
Observation Table :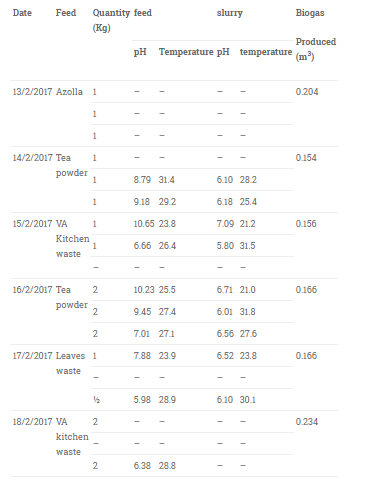 Work upto 28 th feb :
After taking data of the ph and temperature of the bio-gas digester as shown in above table I was start working on the solar heater to increase the temperature of water. For this purpose I was selected a copper tube of 5 mm in diameter and 25 ft in length. This tube was curved in the spiral shape then mounted it on the 2 mm thickness of the MS sheet. Plywood frame was made in square shape. The spiral shaped tube was mounted in that frame. Black colour was given to that frame shown in the fig.
Work upto 11 th march :
After that completion trial of solar heater was remaining. The trial was taken with 15 liter water which temperature was 29.00 degree C . The 12 watt motor was selected to lift and re-circulate the water through solar heater. The reading was taken every 30 minutes from 12.45 PM to 3.45 PM. Maximum temperature was goes upto 38.4 degree C. i.e. shown in following table…….
| | |
| --- | --- |
| Time | Temperature of water |
| 12.45 | 33.6 |
| 1.15 | 34.9 |
| 1.45 | 38.1 |
| 2.45 | 38.4 |
| 3.15 | 37.2 |
| 3.45 | 34.2 |
The data collection of temperature reading of water in the clearance of bio-gas plant was started from tomorrow evening ……..