We Visited to a Geranium plant which belong to Khaire and is Known as Khaire Farms.
Its Located on Mhase BK Maharashtra 412118
https://goo.gl/maps/mHJZCaCWgZAWX4Rp9
About Geranium:-
Geranium essential oil is derived by steam distillation of the leaves of Pelargonium graveolens, a plant species native to South Africa. According to folklore, it was used for a wide range of health conditions.
Geranium oil is grown in many regions, including Europe and Asia. There are many varieties and strains of the pink flower with a fresh, floral fragrance. Each variety differs in scent, but is near-identical in terms of composition, benefits, and uses.
Geranium oil is widely used as an ingredient in perfumes and cosmetics. The essential oil is also used in aromatherapy to treat a number of health conditions. In aromatherapy, essential oils are inhaled using a diffuser, or diluted with carrier oils and applied to the skin for soothing benefits.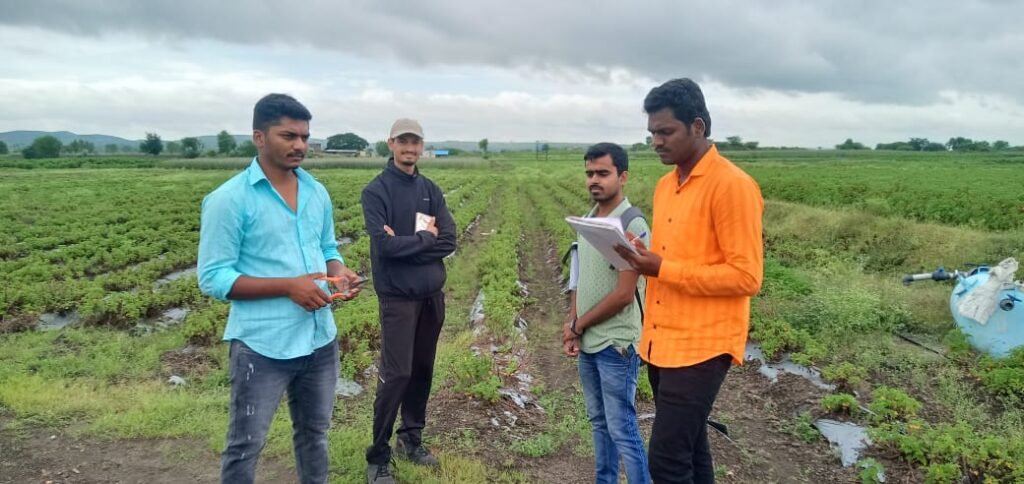 Geranium essential oil can be diluted with a carrier oil, such as sesame oil, and used topically on the skin. You can use it as a spot treatment for acne or itchy skin, or as a massage oil.
Some carrier oils may cause an allergic reaction when applied to the skin. Prior to using, do a patch test on a small area to make sure it doesn't cause a reaction.
When diluting essential oils with a carrier oil, it's important to follow these dilution guidelines. For adults, start by mixing 15 drops of essential oil per 6 teaspoons of carrier oil. This will equal a 2.5 percent dilution. For children, 3 to 6 drops of essential oil per 6 teaspoons of carrier oil is a safe amount.
As an aromatherapy treatment, you can dab geranium oil on paper towels, or on cloth you don't mind staining. You can also place it in a room diffuser, to scent a large space. There are also personal-use diffusers, such as aroma inhaler sticks, that you can fill with oil and breathe in on-the-go.
Essential oils should never be swallowed.
Geranium oil benefits:-
Because geranium oil is a natural anti-oxidant and anti-inflammatory oil, it actively boosts skin's health and natural glow. By helping skin stay conditioned, and soothing irritated or breakout prone skin, it fights against skin affected by harsh weather conditions or prone to acne
Name of Plant :- Geranium
Land Holding:- 18 acre
Number of plants in acre:- 10000 plants
Fertilizers:- compost fertilizer
Yield:- 10 tonne per acre ( plant should be dry)
Amount of oil extracted for 1 acre:- 20 lit
Amount per lit:- Rs11500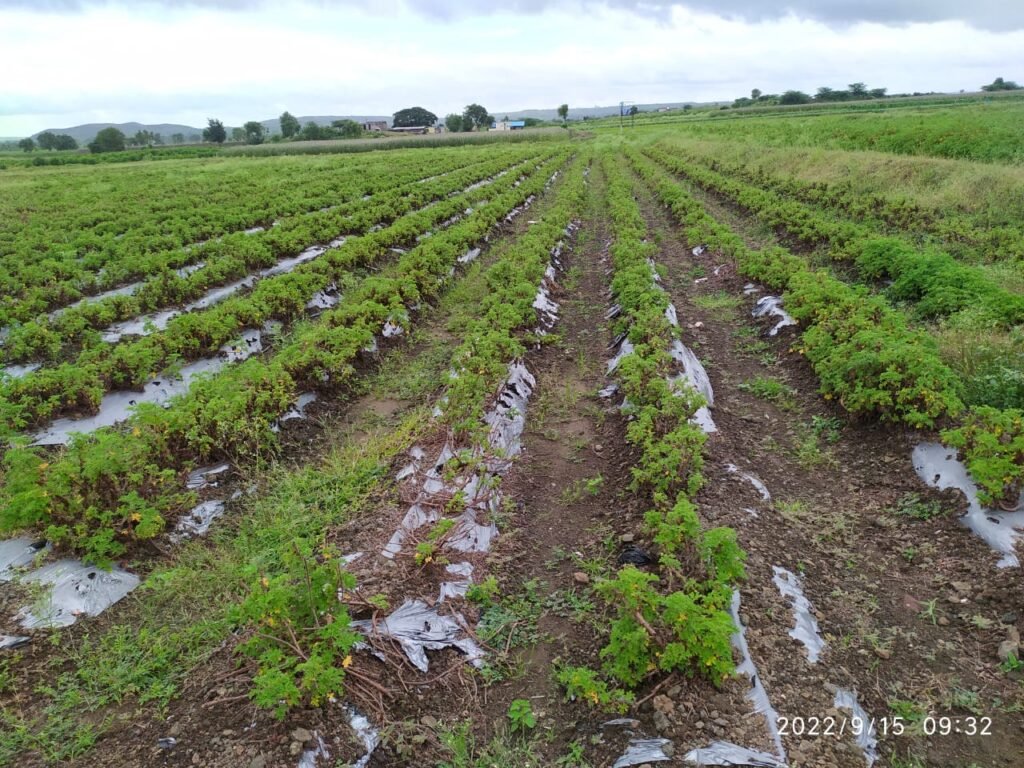 Users:- Mumbai company
Remaining Product:- converted to compost fertilizer
Time Taken:- 3 Month
Irrigation method:- Drip
Plantation peroid:- June- Aug , Sep -Oct ( very less rain required )
Plant prize per plant :- 3 to 4 Rs
Media use:- cocopit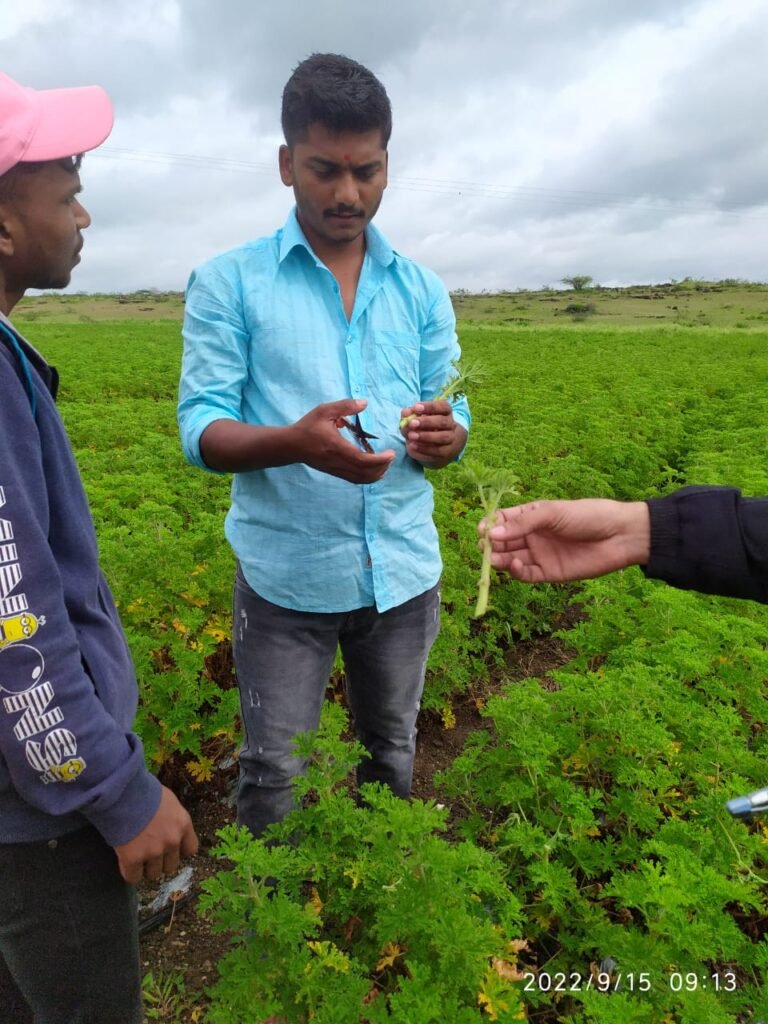 Row to Row distance:- 3 feet and Plant to plant distance:- 1.25 feet
Drip:- 3 to 4 for 2 hrs
Water Supply:- River, farm pond
Distillation Maching porduction :- 3 tonne :-6 lit
Drip Dicharge :- 20 mm Drip :- 4 lit water to each plant
Manpower :- 5-6 Labor
They bring water from Ghod & Kokdi river through pipeline from a distance of half a kilometer.
They can stored river water in their Farmpond, Capacity of this farmpond is 2 crore litres. They have 40 feet depth.
They have installed Geranium Distillation Plant from Rubicon Watering engineering company.
Component of Distillation Plant: Boiler, Blower, Condenser, Steam Flow pipe, 500kg capacity Two tanks, etc.
Process: Firstly, To collect the geranium cutting leaves in tank. To start the boil water and convert water into steam. steam pass through the steam pipe connected to the 1st tank, they gives steam to tank and they increases the temperature of tank then To separate the oil and leaves. oil and water steam goes to condenser and after all we have to separate out Geranium oil and remaning steam water is called as hydrosol.
Conclusion : 500kg of geranium plants yield 1 litre of geranium oil and 4 litre of hydrosol.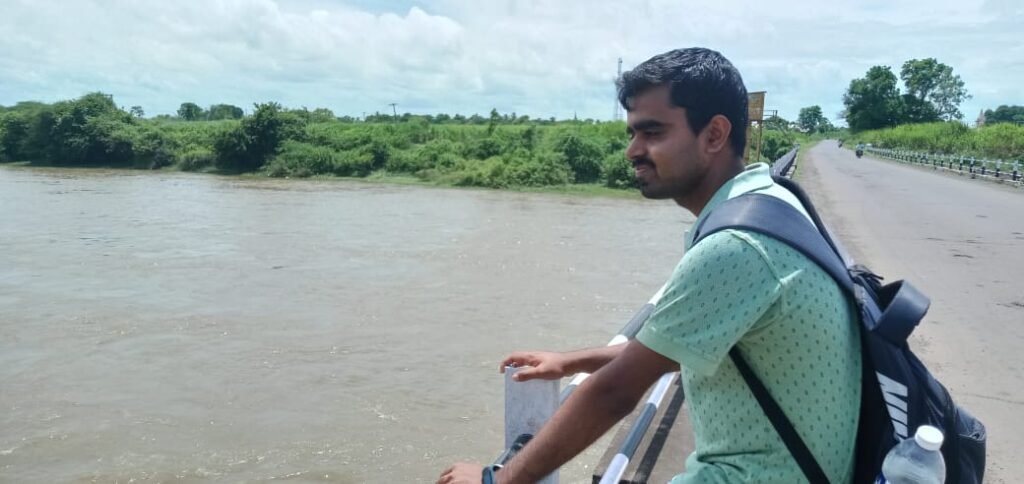 I got to learn so many new things, I didn`t knew what geranium was, it was great experance.