Col. M S Naik (Retd.) deals in medicinal plants. He imports medicinal plants and dries its leaves and stalk in his house to make powder and sells these to his clients. He visited Vigyan Ashram in search of a better alternative for drying his medicinal plants.
He took a tour of the ashram and after seeing various dryers he decided to buy the ARTI dryer. While buying the dryer he asked to increase the number of treys in the dryer to increase its drying capacity.
Renovation of the dryer:
The ARTI dryer had weathered sunlight, wind, rain for a long time. It's metallic structure had caught rust, it's treys won't rest well on their supports, it didn't have a black plastic paper to cover it and it also didn't have any provision to prevent rainwater from entering inside the dryer from the opening at the top.
Fabrication of additional treys and mounting for the fan:
The original dryer had 4 treys 16 cm apart from each other. I fabricated 4 more trey's as per the customer's demand and placed them equidistantly between the original treys. I also welded thin rectangular bars to the frame of the treys to support mesh where the substrate is supposed to be placed.
One of the problems with the dryer was that it didn't have any means of preventing water entering from the top. Hence a base to place the fan and a stool to put a conical cover on it was fabricated.
Installation of the dryer: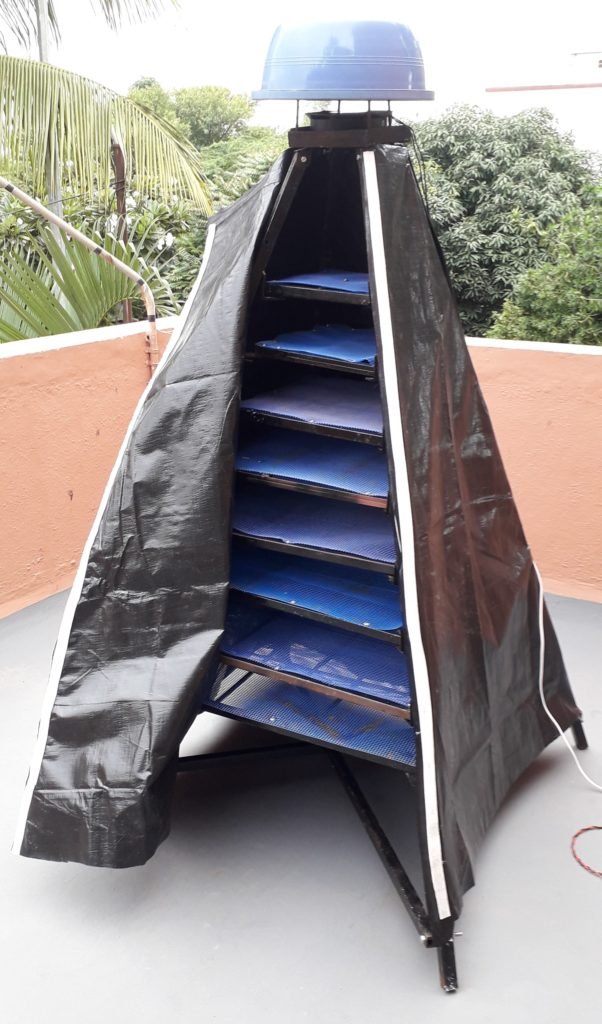 The dryer was installed at the premises of the owner. The black paper was cut and wrapped around the dryer on the location of installation.